Si necesita esta aplicación traducida al español: Haga clic en seleccionar idioma en la esquina superior izquierda de la página web.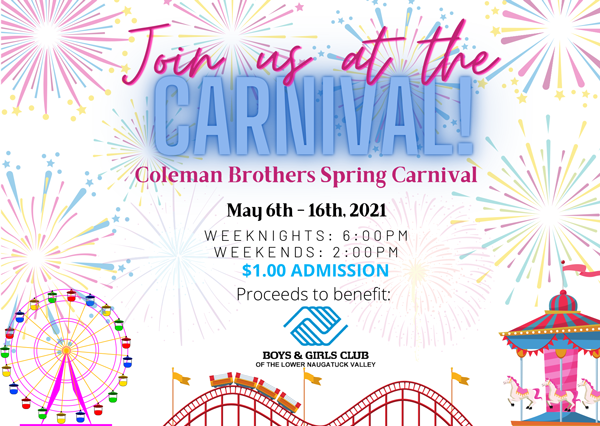 The Carnival has been extended to May 23!
Ready for some family fun? Come on down to the Coleman Bros. Carnival! The carnival includes classic rides like the merry-go-round and Ferris wheel as well as newer attractions like a slide, swings, the Sizzler, Tilt-a-Whirl, and Mardi-Gras themed funhouse. And of course, there's plenty of food, including fried dough, pizza, and cotton candy. A portion of the proceeds go to support our Boys & Girls Clubs in Shelton and Ansonia.
COVID-19 Guidelines
Coleman Bros. is following state and local guidelines, including masks, social distancing, sanitizer at each ride, and a deep clean of rides daily.
Hours
Opens at 6 pm weekdays
Opens at 2 m weekends
Location
Veteran's Park, 83 Canal Street East, Shelton, CT 06484
Admission & Prices
$1 admission fee to benefit the Boys & Girls Club of the Lower Naugatuck Valley
$1.25 per ride ticket
$22 for 20 ride tickets
$50 for 50 ride tickets
(Rides take 3-4 tickets each ride)
$30 Wristbands
Purchase from 6-9 during the week, good til closing
Purchase from 2-4 pm on Saturday, good til 6 pm
Purchase from 6-9 pm on Saturday, good til closing
Purchase from 2-5 pm on Sunday, good til 7 pm