A full house joined the Boys & Girls Club of the Lower Naugatuck Valley too honor this year's Service to Youth Award winners on April 20: Nicholas and Ernestine Luise, the Basset Family Fund, and Sharon Oates. Derby Mayor Richard Dziekan and Ansonia Mayor David Cassetti presented the honorees with proclamations from the dignitaries of Derby, Ansonia, Shelton, Seymour, and Oxford, and Jimmy Tickey presented citations from the State of Connecticut General Assembly, Congressman Jim Himes, and Senator Chris Murphy.
"The evening was special in so many ways," said Shaye A. Roscoe, Chief Executive Officer of the Boys & Girls Club of the Lower Naugatuck Valley. "It was inspiring to witness the respect each of our honorees had not only for our Boys & Girls Club and the Valley nonprofits but for each other as well. They truly embody the philanthropic spirit that these awards stand for, and we are eternally grateful for them."
Nick and Ernestine Luise have been chosen as the recipients of the Raymond P. Lavietes Service to Youth Award, which was presented posthumously for Nick. The Raymond P. Lavietes Service to Youth Award is the highest honor the Club can present to an individual, named after beloved Club friend and supporter, Ray Lavietes, who helped make our Boys & Girls Club a frontrunner in the provision of services to youth through his dedication and commitment. This award honors an individual or individuals worthy of recognition due to their involvement in serving the youth of our community.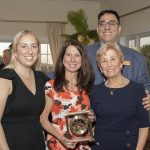 Children have a special place in the hearts of Nicholas and Ernestine Luise. Natives of New Jersey, the couple made the Valley their home and, three decades ago, set to work becoming active in charitable causes throughout the region. Known to friends as Nick and Ernie, they were married for nearly 60 years before Nick's passing late last year.
Ernie was the first female President of the Derby-Shelton Rotary Club, served as District Governor, and has been active with Rotary on the International level. She and Nick participated in Rotary International's Peace Centers program that educates scholars in conflict prevention and resolution. They've traveled to Mexico to participate in the literacy initiative Project Amigo whose goal is to keep the kids in school, and they supported the construction of a three-room school in a rural village in Nicaragua and furnished a computer lab.
Ernie helped Rotary International's efforts to institute a clean water project in the Kolar region of India. Nick and Ernie helped spread a bio-sand filter program which assisted more than 400 government schools and several villages to develop clean drinking water as part of the South Asia Pure Water Initiative. Through Gift of Life they've helped "fix hearts" of more than 1,000 children in the Dominican Republic and Haiti. Ernie also spent two weeks in India administering polio vaccine drops to children in the streets and alleyways of Chandigarh, India.
They've both served on the Boys & Girls Club of the Lower Naugatuck Valley's Board of Directors and supported the Club for many years. Between them they've served on the boards of Birmingham Group Health Services, Valley YMCA, VNA of Southern CT, Hewett Foundation, TEAM, Valley Community Foundation, Center Stage, and Rotary D7980 and the International Board of Gift of Life.
Their many awards include Valley United Way's Charles H. Flynn Humanitarian Award and Parent Child Resource Center's Joseph A. Pagliario, Sr., Distinguished Service to Children & Families Award, the YMCA's Richard Nicolari Sr. Award, and the Valley United Way's Sharon Bryce Holly Community Hero Award, as well as commendations from the local and international levels of Rotary.
The Bassett Family Fund has been chosen as the recipient of the Champion of Youth Award. The Champion of Youth Award is the highest honor our Boys & Girls Club can award a company/organization. It is presented to those worthy of recognition due to their involvement in serving the youth of our community. This honor is presented for outstanding leadership and untiring dedication to youth activities, distinguished record in volunteer service with an emphasis on youth, and exceptional support of our Boys & Girls Club.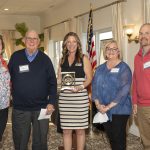 William C. "Bill" Bassett and his wife, Judy, established the Bassett Family Fund at the Valley Community Foundation in 2005 to support area nonprofits, and the Fund has gifted more than $2.5 million since then. The Boys & Girls Club of the Lower Naugatuck Valley was supported through this Fund for its capital campaigns to construct both the Raymond P. Lavietes Clubhouse in Shelton and the Joel E. Smilow Clubhouse in Ansonia. Most recently the Fund donated more than $30,000 to help outfit the new exergame room in the Lavietes Clubhouse.
Bill's father, William E. Bassett, started the W.E. Bassett Company in 1939 in Derby at the age of 25. It was a small general machine shop, and during World War II it made mostly munitions components. In 1947 he redesigned a small, steel nail clipper that would change his company and family forever. His TRIM clippers were so popular and the company so successful it grew to be one of the most prosperous manufacturers or personal care grooming products in the United States. The Fund began a few years before the company and TRIM brands were sold, and the family—Bill and Judy, his children Lynne, Betsy, and Bill, Jr.—decided to continue supporting the Valley's nonprofits just like the company always had. They each donated some of the proceeds from the sale into the Bassett Family Fund. In recent years the Fund has engaged its next generation by including the seven grandchildren.
Sharon Oates has been chosen as the Alumni Hall of Fame award recipient. The Alumni Hall of Fame Award recognizes former members and staff for their contributions to society, outstanding leadership, dedication to children, and service to the community and Boys & Girls Clubs.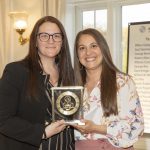 Sharon joined the club as a member and came back as a junior counselor, serving in every role she could as she completed her high school and undergraduate studies. With support from her mentors at the Club and through her own hard work, Sharon transitioned from Keystone President to Keystone Advisor, and from shy outsider to the Drama Club's Assistant, Resident Club DJ, and poet. She earned the Club's highest member award, Youth of the Year, in 2006, as well as Girl of the Year.
After leaving the Club to start her career, Sharon was careful to select employers who share her values and make it their mission to be consistently reliable and compassionate. She started with New York Life Insurance Company, working in Agent Contracting & Licensing. She now supports Revenue Cycle operations within the Yale New Haven Health System, ensuring the members of her beloved community receive excellent care and treatment.
Believing that the more she learns, the better equipped she is to serve others, Sharon recently completed her Masters of Business Administration with the University of Arizona. She also believes in the power of community and togetherness and in helping each other to succeed. Sharon is an active volunteer within the Club when she can and also volunteers with church events, the Connecticut Special Olympics, and as a softball coach for her nieces' softball team. She also supports charity fundraising, participating in 5k events supporting breast cancer and Alzheimer's research.
For more information about the awards and the Boys & Girls Club of the Lower Naugatuck Valley, visit https://BGC-LNV.org.
###